Did you know you have access to a resource that allows you to find and share both new construction and resale listings from across Colorado? That's right, they are all in REcolorado Matrix!
A Win-Win Partnership
As your MLS, one of our goals is to give you the information you need to be at the center of all real estate transactions – resale, rental, and new construction. REcolorado was the first MLS in the country to form a partnership with NewHomeSource Pro that brings their Colorado new construction data directly into REcolorado Matrix, making new construction information readily available to you and your clients within Matrix. What's more, you can quickly and easily share this new construction information with your clients, use it for showings, and contact builders to ensure you are representing your clients in new construction transactions.
Finding and Sharing New Construction Info
Take a look at the new construction information you can find in REcolorado Matrix:
New Home Communities – In-progress or completed new home communities, including community amenities
New Home Plans – Designs or blueprints that homes builders are planning to construct in a community
Spec Homes – New homes currently under construction or completed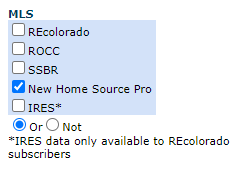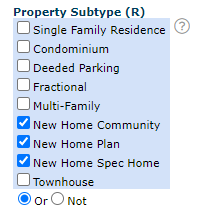 To search all New Home Source Pro information, as well as information that may have been entered by brokers, use the Residential or Cross Property search form in REcolorado Matrix and select New Home Community, New Home Plan, or New Home Spec Home from the Property Subtype field. Include New Home Source Pro in the MLS field for the broadest results.
The Full Property view will also display additional new construction information from New Home Source Pro. Look for even more information in the Remarks section or next to the builder sales agent information.
Pro Tip: Get more information and details by taking a look at our product reference document for New Home Source Pro in REcolorado Matrix.
Have a question? You can contact a member of our Customer Success Team six days per week at 303.850.9576, option 1, or support@REcolorado.com.