Your duty as a real estate broker is to serve the best interest of your clients. In some situations, a seller may request that their home not be listed in the MLS. How do you uphold your fiduciary duty while following the Clear Cooperation Policy?
First, understand the reason your seller is making the request. There are legitimate reasons why a seller might request to keep their home out of the MLS, like protecting their privacy or limiting showings, but they may not know or understand all options available to them. As the real estate professional, you can offer advice and guidance to uphold your duty to serve your client.
Privacy
"I don't want photos of my home available to the public. I'm concerned about safety."
Some sellers do not want details about their home to be available to the public. Whether they are a celebrity, in witness protection, or simply concerned for their safety, protecting the seller's privacy is the primary concern.
You control the marketing.
Regardless of how and where you promote the listing, you and your seller are in control of how you market the listing. You can enter the listing into the MLS, which means all other marketing outside the brokerage is allowed under Clear Cooperation, while protecting the privacy of the seller.
No public display on websites or IDX Feeds. This option removes the listing from our public-facing website (REcolorado.com) and IDX feeds, including Zillow. To opt out, simply select "No" under Internet Entire Listing Display.
Exclude the address from internet display. The listing can appear on other sites, but without the address. This protects your sellers from drive-by lookie-loos. Keep in mind, this may prevent the listing from appearing on some external sites that cannot accommodate a hidden address.
Opt out of syndication. You can choose if and where the listing is syndicated. You can opt out of all 3rd party websites, like Nextdoor and Realtor.com. When combined with the first option, selecting "No" for Internet Entire Listing Display, the listing will only be visible to brokers within REcolorado Matrix.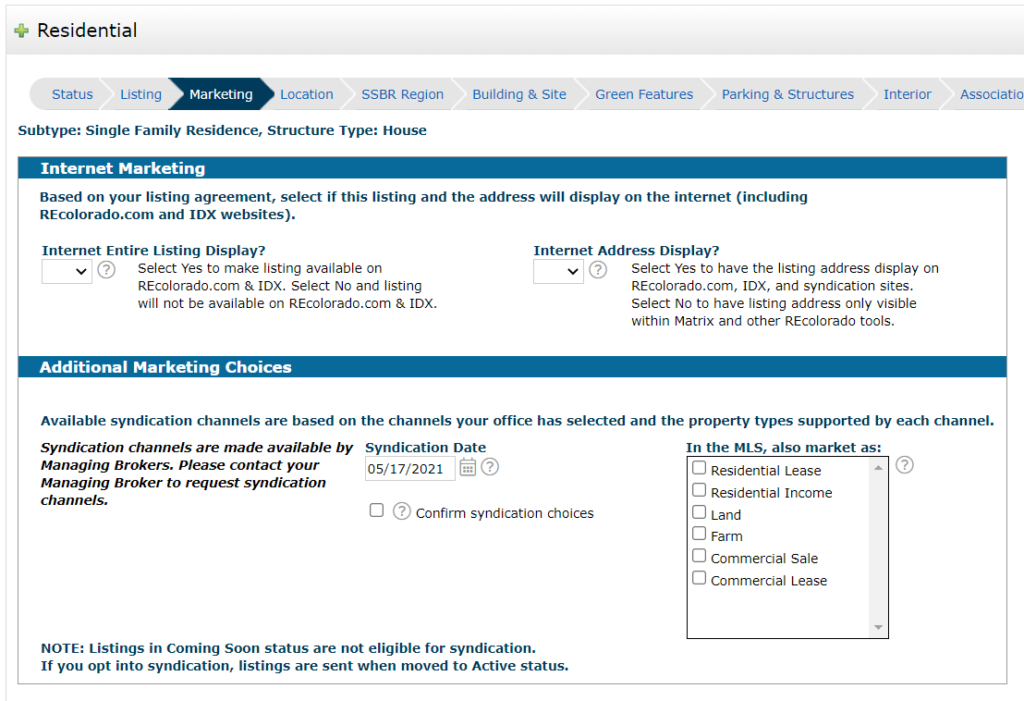 No Showings
"My home isn't ready for showings, but I want to sell it quickly when it is."
Your seller may not wish to have many potential buyers in the home for showings. Whether the property is currently rented and occupied, needs repairs or updates before showings begin, or simply want to avoid the hassle during the holidays, sellers may wish to keep showings to a minimum.
Showing Restrictions
If the home simply isn't ready for showings yet, but will be soon, enter the listing in Coming Soon status. You may begin marketing the listing, but no showings are allowed until the listing is moved to Active status.
Use the No Showings Until field on the Listing tab to indicate when you expect showings to occur. If you're not ready to make the listing Active after the 7-day Coming Soon period ends, switch the listing to Withdrawn status. Withdrawn indicates that you have an active listing agreement and the seller intends to sell the property, but it is temporarily off the market. Learn more about the different statuses >>
If the seller wishes to limit the showings allowed, you can add seller-approved showing restrictions to your listing in REcolorado Matrix. Include these details in Showing Notes on the Listing tab during Listing input. Many showing services, like ShowingTime, also offer similar options. You and your seller may include any stipulations you'd like, such as proof of funds, lender pre-approval, only Tuesdays between 3:00-4:00 p.m., etc.
No Open Houses
While they are a common real estate practice, open houses are not required. You and your seller can determine whether to host an in-person open house or explore other options using available technology, like a virtual open house or a recorded virtual tour. All of these are optional.
Limited Network
"Can't you use your connections to find me a buyer?"
Available to All: Fair Housing
While real estate brokers are often good at networking, limiting a listing in this way is rarely in the best interest of the seller and often violates Fair Housing guidelines. The goal of Fair Housing is to ensure all potential buyers have access to all homes for sale. The Clear Cooperation policy is designed to support Fair Housing by ensuring that listings made available to some buyers are visible to all buyers.
As a listing broker, your goal is to attract the highest, most favorable terms, and best offer for your seller's property. Even well-networked brokers are not connected to everyone. You might miss the right buyer if the home is only seen by a limited network. By putting the listing in the MLS, you make it available to the largest broker-to-broker network in the state with approximately 26,000 real estate brokers and their buyers. Additionally, in order to market the property in compliance with the Clear Cooperation Policy, the listing must be input into the MLS.
Plus, only serious buyers who are actively working with a real estate broker will see listings in REcolorado Matrix. When you use the tools available to you within REcolorado Matrix, you can both expose the listing to the greatest number of prospective buyers and protect the privacy of your sellers.
Seller Directive: No MLS
In the rare event a seller has extenuating circumstances to request that their listing not be included in the MLS and none of the above options alleviate their concerns, this may only be done as a Brokerage Exclusive.
Brokerage Exclusive Listing
Brokerage Exclusive listings may only be marketed within your brokerage office – no public marketing may take place. If your seller directs you not to include the listing in the MLS, you must submit the Brokerage Exclusive Listing form to REcolorado. The seller must sign this form to confirm they understand the marketing limitations of a Brokerage Exclusive Listing.