When you are entering a listing into REcolorado Matrix, you do not have to complete the entire listing in one session. Use Save As Incomplete to save your work at any point and come back to it later.
This is a great way to proactively start a listing while the details are fresh in your mind. You can even pull up Matrix from your phone while you're at a listing appointment to start the listing while your gathering information the first time!
Save as Incomplete is also a great option if you're working with others on the same listing. For example, an admin or transaction coordinator can start the listing, then the list agent or can review and edit before publishing. Your office set up determines who has access to listings — admins, managing brokers, and team members can collaborate on listings. You may use the Impersonate feature to grant others access to your listing, too! Remember, you may not share your login credentials.
Pro Tip: For an in-depth review of Listing Input, register for an upcoming class: Matrix: If It Can't Be Found, It Can't Be Sold >>
How to Save as Incomplete
Login to REcolorado Matrix and click the 'Input' tab.
Select the appropriate Property Type
Select either Fill from Realist, Fill from Existing Listing, or Start with a Blank Listing
Enter the appropriate Property Subtype, Structure Type, Association (HOA), Restrictions and Covenants, and Tax Legal Description. Please remember, you cannot go back to the Start Listing Tab and update these fields after you move from on to the next tabs, so be sure the information you enter is accurate.
Enter the additional information you have for the listing, including the Listing Agent ID, which is required for the listing to be Saved as Incomplete.
Click the 'Save as Incomplete' button
You'll then see 'Input Succeeded' (aka "saved")
Pro Tip: For more time-saving advice, join our live webinar: Listing Input Tips and Tricks >>
Save as Incomplete vs. Submit Property
When you're entering a listing in REcolorado Matrix, you'll see four buttons at the bottom of the page.

Save as Incomplete – Clicking this button saves your listing so you can edit it later. We recommend using "Save as Incomplete" until you're ready to make your listing public.
Validate – To save time, use the "Validate" button to quickly see which fields are required during listing input. Look for those marked with an exclamation mark in a red circle.
Cancel – Click this to discard your listing.
Submit Property – Your listing will not be available for others to view in REcolorado Matrix until you click "Submit Property." Click this button to submit the listing to the MLS for the first time, or to save changes made on an already viewable listing.
Important Note: Save as Incomplete is different from the Coming Soon Status. You can edit and make changes to an Incomplete Listing before marketing it. In the Coming Soon status, listings are viewable to brokers. For more information, please take a look at the ABCs of Matrix Statuses.
How long can my listing be Incomplete?
Incomplete listings are stored in REcolorado Matrix for 60 days. Additionally, each edit you make will restart this 60 day period.
When you Save as Incomplete, the listing does not accrue DIM since it is not Active. For more information, please take a look at Everything You Need to Know About Days In MLS (DIM)
Finding your Incomplete Listings
Accessing your Incomplete listings is simple! Once you save a listing as Incomplete it will be available on your REcolorado Matrix home tab under the "My Listings" widget. You can also access Incomplete listings from the Input tab by selecting the appropriate listing ID.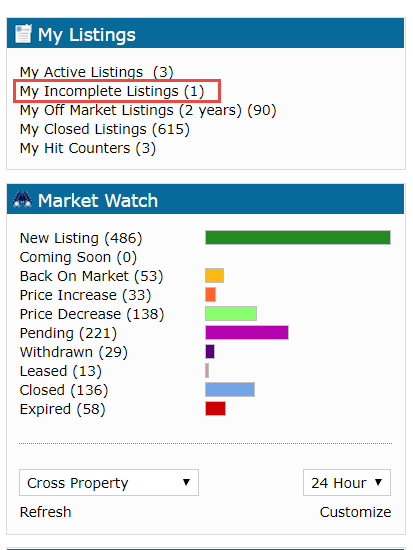 Ready to Make Your Listing Visible to the MLS?
Once you have entered all the listing information for a property and are ready to make it visible in the MLS, select Active or Coming Soon from the dropdown menu under the Status tab. Once you click the Submit Property button, you'll see the "Input Succeeded" notification letting you know your listing is available in REcolorado Matrix.
Once a listing has been submitted as Coming Soon or Active, it cannot be changed back to Incomplete.
Pro Tip: For on-demand guidance about listing input, visit the Listing Input & Edit Learning Path
How long can my listing be in Coming Soon Status?
Your listing can be in Coming Soon status for up to seven (7) days. But remember – you can activate listings at your pace!
If you're planning a shorter Coming Soon period, you can change the Activation Date. By default, the Activation Date will be set to seven (7) days after the listing is submitted in Coming Soon status. If your listing is still in Coming Soon status, it will automatically move to Active status at midnight on the Activation Date.
Pro Tip: You'll receive a notification from REcolorado Matrix two days before your listing automatically moves to Active Status.
Once a listing is moved to Active status, it cannot be changed back to Coming Soon.
Pro Tip: Remember, you can manually move your listing to Active status at any time.
We're here for you as you continue using REcolorado Matrix. Please contact us at 303.850.9576, option 1, or support@REcolorado.com if you have questions or need more information.