REcolorado is thrilled to introduce Mevi, a new Professional Innovator product available on your REcolorado CONNECT dashboard. Mevi is the only digital-first transaction platform built for brokerages, agents, and their clients.
Using the power of data, Mevi created Smart Contract technology, which vastly simplifies working with contracts, forms, and disclosures. Mevi also works in tandem with other solutions, so even if you use another system to create and sign forms, you are able to upload any document into Mevi to track revisions, comment, and share with just a few clicks.
However, unlike other solutions on the market, Mevi goes beyond the basics and includes interactive and data-driven timelines, task lists, and in-app messaging to provide a digital + mobile experience available anytime, anywhere, from any device.
But that's not all. With Mevi, you get compliance on autopilot. From automated checklists and custom workflows, to fast and efficient document review and approvals, you'll save time and potential headaches with features that make it simple to track and report on compliance mandates.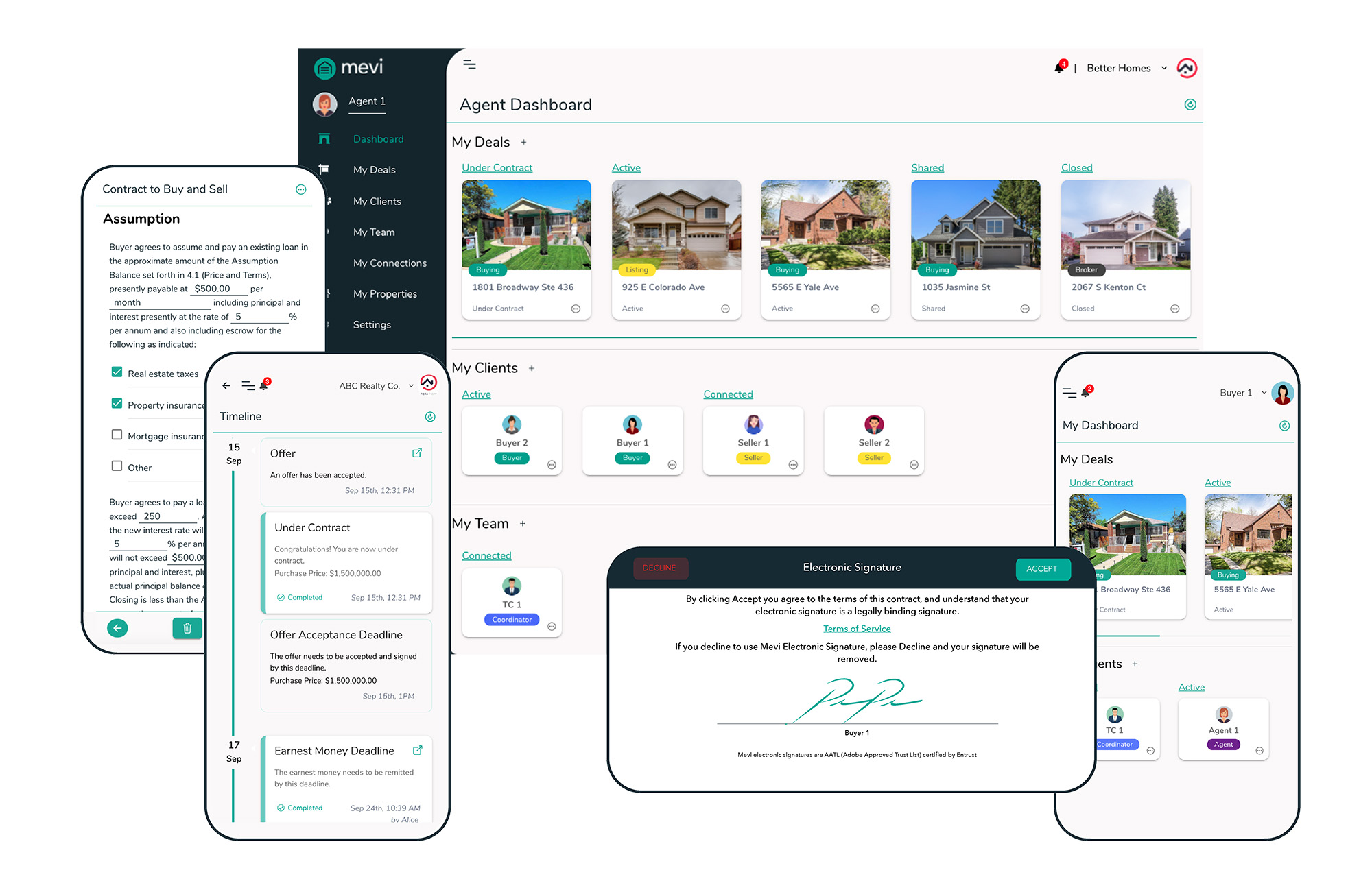 Why Agents Love Mevi
Delighted clients: Mevi is always free for your clients and delivers a digital experience unlike anything else on the market. Happy clients = more referrals.
Deeper connections: Mevi's suite of collaboration tools connects you to clients, vendors (home inspectors, lenders, title reps, etc.), and team members, creating a seamless experience for everyone involved in the transaction.
Work from anywhere: No more rushing to a computer when your client needs something. Mevi is truly digital-first, which means you can access all of your deals from anywhere, on any device.
Save time: With document management, collaboration tools, and proactive compliance all in one easy-to-use platform, Mevi puts time back into your day.
Why Brokerages Love Mevi:
Build your brand: White-label Mevi and continually put your brand and content in front of clients.
Customize workflows: Mevi let's you define brokerage specific processes and custom reports with just a few clicks.
Interactive forms: Turn brokerage specific forms into Smart Contracts to reduce errors and gain efficiencies from offer to close.
Recruit top talent: Top agents want top tools so they can focus on clients, not paperwork. Attract and retain agents with intuitive, modern software.
Make smart decisions: By leveraging the power of your transaction data, you can drive business intelligence decisions and focus on growth.
For more information, visit https://mevi.io/how-mevi-works
Original Post Published October 2021 — Updated January 2022