We've talked about finding more inventory within REcolorado Matrix. Next, we want to show you a few ways to help create more inventory for your market since the quantity of new listings continues to be a challenge in many parts of Colorado.
Continue reading for valuable tips on how to get more listings using your communication tools from REcolorado.
Contacts in Matrix
Start by looking at your existing sphere of clients who are already in Matrix. To access your contacts, navigate to Contacts under the My Matrix menu.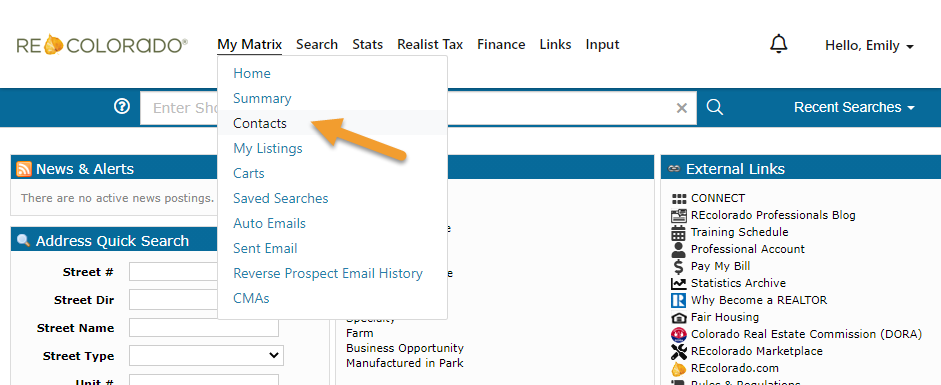 Your list likely includes past and current clients. Some brokers even store leads as contacts in Matrix. Because Matrix syncs with the REcolorado App, you can easily import contacts from your cell phone into your Matrix Clients list.
Since Matrix has been REcolorado's MLS for the last 8 years, you may have a long list of contact records. According to the National Association of REALTORS®, the average homeownership time is 6-9 years in the Denver Metro Area, which gives you the perfect opportunity to reach out to past clients and help them consider the benefits of a move.
Review and Set Up Auto Emails
From the Contact screen, you can easily access any Auto Emails associated with a contact. Review existing Auto Emails to see if any adjustments need to be made. Keep these up to date and set up fresh Auto Emails as your clients' needs and wish list change over time.
Homeowners are often reluctant to put their home on the market because they don't know where they will move. Sending up-to-date auto emails keeps fresh listings top of mind and may inspire them to look for their next home. Knowing they can find a new home to purchase may encourage them to list their current home for sale.
So, keep track of those Auto Emails and how often your contacts are visiting their client portal. An increase in activity is a sign that they may have some frustrations with their current home and are interested in new opportunities.
Guide: How to Manage Auto Emails

Class: Matrix Communication Tools
Updated CMA
An up-to-date CMA can also help a homeowner decide whether to list their property. Your clients may not realize how much their home is now worth or how much equity they have built in the property. Show them the current value with a fresh CMA!
You can quickly start a CMA from the Contacts page in Matrix.
A fresh CMA is a great touchpoint for you as a broker to show the value and knowledge you can bring to your client's financial future. Plus, it opens the door to discuss what they can afford in their next home.
Guide: How to Customize a CMA Cover Sheet
Send Market Stats for their Neighborhood
Homeowners are often curious about what's happening in the housing market, especially in their neighborhoods. Send your clients neighborhood-specific market statistics so they can see how many others in their neighborhood are having success selling their homes.
You can easily create custom market stats reports. Use InfoSparks to draw an area around their neighborhood and generate quick stats on the number of Closings, Average Sales Price, Days in MLS, and number of showings before a listing is moved to Pending status.
Market stats reports are a great way to showcase your expertise and build your reputation as a local market expert! Not only can you share stats for the area where they currently live, you can also create reports for neighborhoods where they might like to live.
Guide: How to Select and Compare Geographies

Class: Market Intel
But Wait, There's More!
REcolorado Matrix offers many ways to stay in touch with your clients, but you also have access to other powerful tools through your REcolorado subscription, including:
LionDesk
This CRM tool helps you manage your sphere of past and present clients. You can import a list of contacts, track the frequency of communication, and set up drip campaigns with pre-written or custom templates. Learn more >>
ePropertyWatch
Use ePropertyWatch to send automatic home valuation emails, which can be sent every 2 weeks, 4 weeks, or 3 months. Stay top of mind and open the door to pricing conversations. Learn more >>
To learn more about the various communication tools included in your REcolorado subscription, sign up for an advanced training class:
Keep in Touch with Past, Present, and Future Clients

Farming: How your REcolorado Tools Enable you to Identify, Maintain, and Profit from a Farm