On behalf of the entire team at REcolorado, I want to wish you a happy New Year! This marks my eighth month at REcolorado. Starting a new position in the midst of a global pandemic has brought a few challenges (I'd much rather meet all of you face-to-face) but overall, it has been very productive and extremely rewarding. Over the last several months, I've confirmed what is widely known in our industry. REcolorado is a leading MLS partner and a well-positioned for continued success thanks in part to our strong, and collaborative Board of Directors. What did we achieve last year and what are we focused on for 2021? Read on as I connect the dots.
REcolorado 2021 Board of Directors
The REcolorado Board is comprised of 12 directors, eight (8) from our shareholder associations, two (2) from Mountain Metro Association of REALTORS®, and two (2) at-large directors. We keep our board small so we can be nimble, plan for the future, and adjust to our evolving marketplace. REcolorado's 2021 Board of Directors was ratified and officers were elected at our Annual Board of Directors meeting, which is always held the first Monday of November. I invite you to take a look at our REcolorado Announces 2021 Board of Directors press release for details.  
The REcolorado Executive Team and I have the responsibility of guiding the board in developing a high-level strategy to ensure REcolorado thrives. Our very talented team at REcolorado then translates that strategy into tactical plans that bring you the products, services, data, education, and care you need to operate your businesses and serve your clients.
2020 Results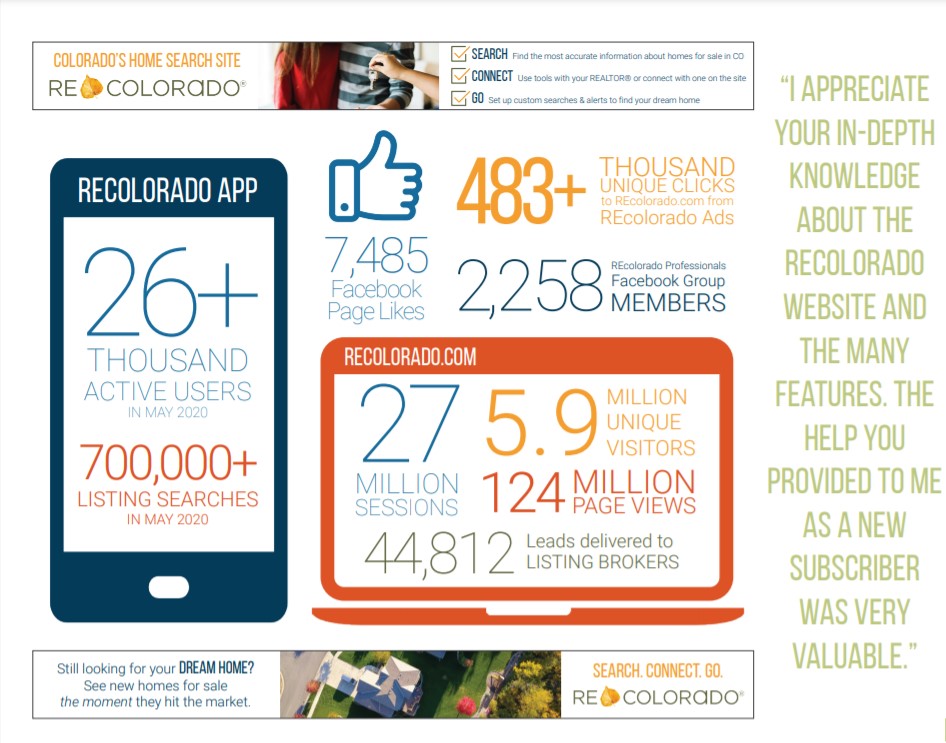 Alan Smith, the 2020 Chairman of the REcolorado Board of Directors, had the honor of presenting the REcolorado 2019-20 Annual Report to our Board of Directors and Shareholders at our most recent annual meetings. The report outlines the company's accomplishments from June 2019 through May 2020. I encourage you to review the report! Last year, REcolorado converted our native REcolorado Matrix database to the Real Estate Standards Organization (RESO) Data Dictionary standard and became the only MLS in Colorado with a native database that has RESO 1.6 Platinum Certification. With this conversion came the launch of the new REcolorado Matrix MLS system. Last year, we also launched the REcolorado App, which is seeing broad adoption from brokers and consumers, and we strengthened our suite of product offerings by making customer-centric enhancements. Toward the end of our fiscal year, we inked the deal with IRES to exchange and integrate data.
2021 Goals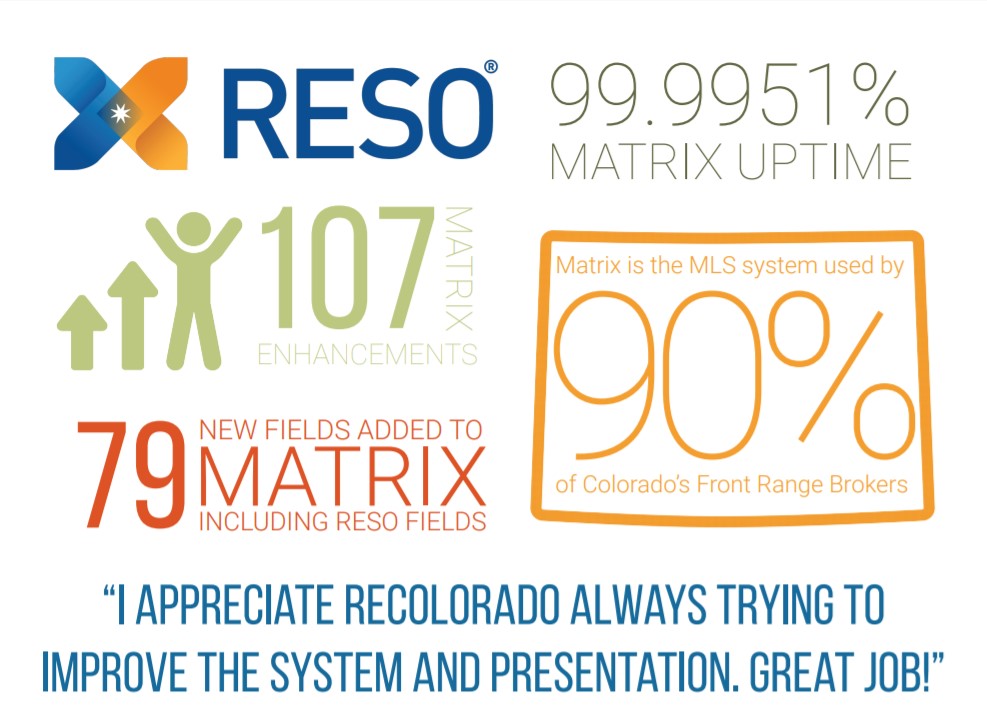 During our 2020-2021 fiscal year, you can expect more customer-focused enhancements to our products and services. During the first part of the year, you will see updates to the Matrix CMA, which includes adding Realist tax data so both listings and public records can be included on a CMA. Features will continue to be added to the REcolorado App including adding price pins to the map and the ability to edit listing status. Providing you more data will remain a major strategic focus in 2021. Forming partnerships with MLS organizations and REALTOR Associations throughout the state to collaborate and bring you the data you need to serve your clients will remain a priority.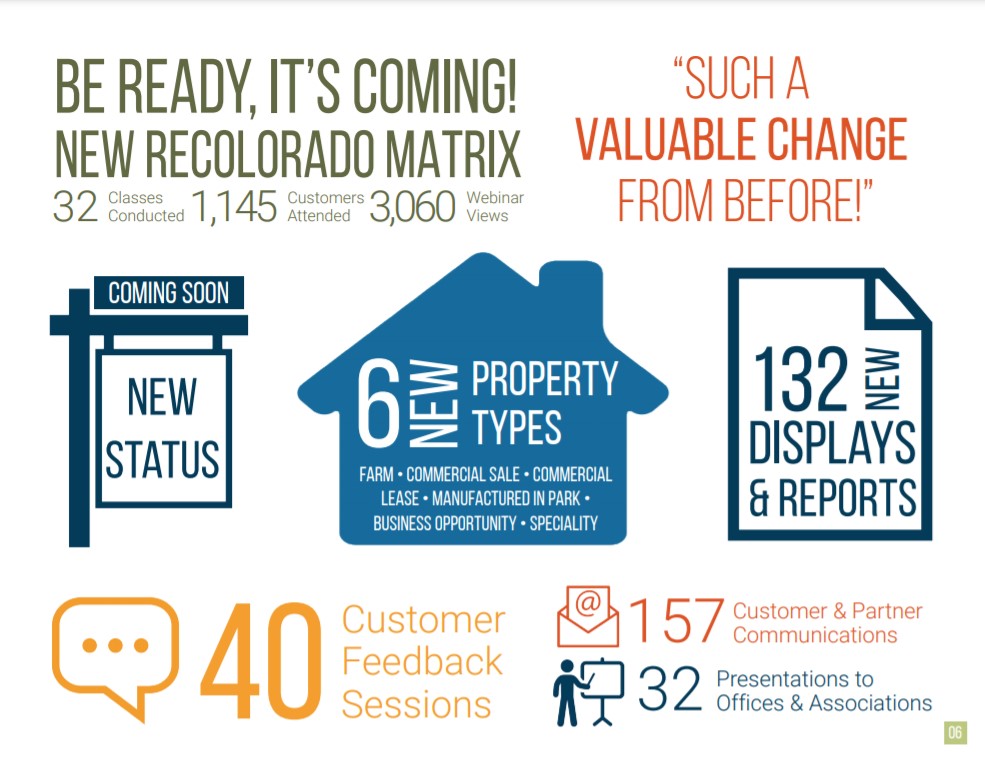 This summer we will launch a new REcolorado.com home search site, which is designed to bring greater visibility to your listings and send you leads. In 2020 we delivered more than 55,000 leads to REcolorado subscribers from REcolorado.com. The new REcolorado.com will include customized local information and, of course, the listing broker will be displayed prominently. Also, later this year, we will be launching an updated Client Collaboration Portal you can use to streamline the service you offer to your customers.
Yes, that is a lot, but it is just for starters. Please read your Weekly News and the REcolorado Professionals Blog to make certain you are up to speed on the latest updates.
I continue to be absolutely delighted to be part of the REcolorado team. We have an amazing board of directors and our shareholders are supportive and collaborative, which is the recipe for success. I'm looking forward to a great year.
Gene Millman
REcolorado President & CEO