Livable Structures can be an attractive addition to a property that may help a home stand out from the crowd. Buyers may be looking for a home with a Livable Structure to provide additional space for family members to stay with them or to earn supplemental rental income. Sellers may want to highlight their Livable Structure as a compelling feature to their home. Whatever the purpose of the space may be, as a broker, you need to know the appropriate fields to use when entering a listing with a Livable Structure so interested buyers can find it and sellers can present their home to its best advantage.
Pro Tip: Attend our 'Matrix: If it Can't Be Found, it Can't Be Sold' webinar to learn how to input and maintain listings in Matrix and the importance of thorough and accurate listing input.
What Is a Livable Structure?
Based on the RESO Data Dictionary definition, Livable structures have walls, floors, and ceilings, and a separate heat source, and would be considered suitable for a person to occupy year-round. Non-livable structures, such as a barn or workshop, are considered Outbuildings.
Pro Tip: Livable Structures provide value to a property, but do not count towards the primary property square footage. Review the Square Footage Companion.
Entering Livable Structures in REcolorado Matrix
Livable Structures should be notated when entering a new listing in REcolorado Matrix. If your residential listing has a Livable Structure, you must add it to the Livable Structures section in the Parking & Structures tab. Simply select the Structure Type from the pulldown, add the number of bedrooms and bathrooms, enter the square footage, check the appropriate Structure Flooring, and provide a description. You should not add information about Livable Structures exclusively in your remarks.
When you correctly input this information, you not only help potential buyers with complete information about your listing, but you also speed up the process for appraisers.

Searching for Livable Structures in REcolorado Matrix
If you have a buyer who is looking for a property that includes a Livable Structure, you can add this information to your searches in REcolorado Matrix. On the residential search page, scroll to the bottom and add Livable Structures to your search criteria. When you go back to do your search, simply select a Structure Type from the pulldown in that section.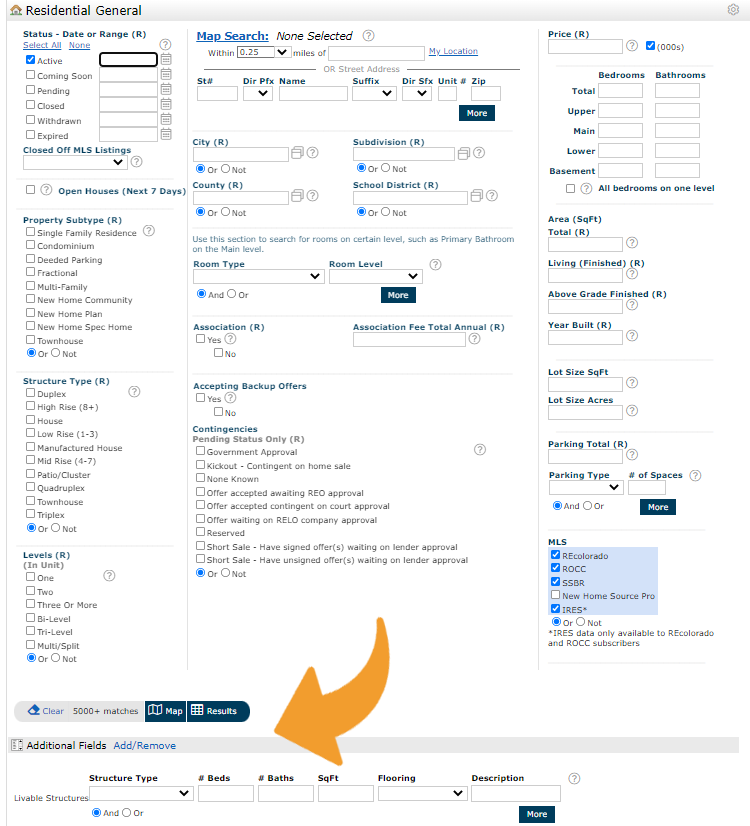 For more helpful property and structure information, take a look at the REcolorado Dictionary of Property Types, Property Subtype and Structure Types, and Square Footage Companion.