While we'd like to think every real estate transaction fits neatly into the same process, this isn't always the case. You need listing input options that support your client's needs and the way you do business. That's why REcolorado offers multiple listing input options to reflect the different paths your listings might take.
Pro Tip: Entering listings into the MLS is important because it helps buyers find their next home, but that's not the only reason we go through the process. Remember, the listings you enter contribute to the data you'll need in the future to generate your next CMA, show your productivity, run market stats, search available inventory, share listings in the Client Portal, and write contracts. The more data you have, the clearer you'll see the bigger picture and the stronger the system will be for everyone who uses it. ​
Here are the three different options available to you when entering a listing into REcolorado Matrix.
Traditional Listing Path: Broadest Exposure to the Entire MLS
Most listings follow a traditional path through the MLS where they are entered as either Coming Soon or Active and made available to the full network of brokers and their buyers. After an offer is accepted, the broker would move the listing to Pending and then Closed.*

Once your listing is in the MLS, it's time to begin marketing! Your listing will be available to over 26,000 participating brokers and their serious buyers when it's entered in the MLS. Beyond the exposure in Matrix, you can promote your listing through any channel that's part of your marketing strategy with flyers, yard signs, digital communications (such as email blasts), multi-brokerage sharing networks, social media, open houses, applications available to the general public, digital marketing on public-facing websites, and more.
Pro Tip: The only limitations on marketing for a traditional listing would be based on the listing's status. For example, if a listing is in Coming Soon status, it would need to have a Coming Soon rider on the yard sign.
Coming Soon! Private Exclusive: One-to-One Exposure
Not every listing is suitable for complete visibility to the general public. In very limited circumstances, a seller might wish to limit the exposure of their listing. In these cases, you may choose the Private Exclusive listing option, which will be available soon.
Private Exclusive listings should only be used on a limited basis when property owner(s) want anonymity/privacy when attempting to sell their property and instruct their broker to limit the visibility of their listing in the MLS. Restricting a listing to Private Exclusive must be at the seller's directive. To ensure this, the listing broker is required to affirm an attestation during listing input and the listing agreement must specify that the property will not be marketed publicly.  
You'll see this option on the Start Listing tab of Residential listing input in REcolorado Matrix. Selecting "Yes" means the listing will only be visible in the MLS to agents within your brokerage, and you will be required to submit the attestation we mentioned above. At any time during the process, you can change your listing to make it available to the entire MLS.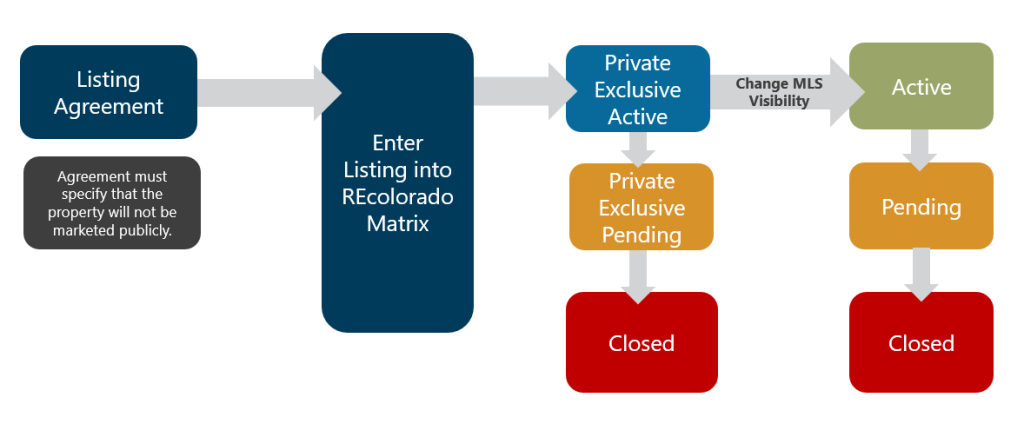 Private Exclusive Listings may only be shared via one-on-one marketing. This means you can reach out to any person within your sphere on a one-to-one basis. For example, you may email one person in another office to let them know about the property. Mass public marketing – such as flyers, social media, open houses, and the other options listed above – is not allowed. The attestation you submit during listing input confirms that the seller understands the difference between private and public marketing and the impact both could have on selling their property.
Pro Tip: If another broker requests a preview or showing of a Private Exclusive listing, you must let them view the property.
Closed Off MLS: No Exposure
In extremely rare circumstances, such as FSBOs and new builds, a listing may be legitimately sold without using the MLS and without incurring any Clear Cooperation Policy violations. You can still enter these types of listings into the MLS! Remember, having a complete data set is important not only for finding buyers, but for powering the statistics and tools you need to run your business.
You can add these types of listings into the MLS for comparable purposes by using the Closed Off MLS listing input option. You'll see this option on the Start Listing tab during listing input in REcolorado Matrix. The Closed Off MLS Property Type is NOT an alternative to using the MLS.

*This is a general example. Please note that listing paths can include any or all MLS status types. For an overview of each status, review our ABCs of Listing Statuses guide.
Questions? Contact our Customer Success team at 303.850.9576, option 1, or support@REcolorado.com.