Want to increase efficiency and boost accuracy when you enter new listings into REcolorado Matrix? Be sure to keep these eight tips and tricks handy.
---
1. Pick the Correct Property Type
REcolorado Matrix has dynamic listing input, so selecting the correct Property Type will ensure the corresponding options for Property Subtype are available. And, selecting the correct Property Subtype will ensure the appropriate Structure Types are shown.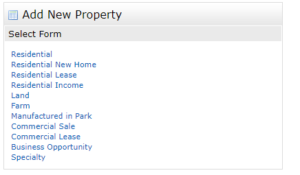 PRO TIP: If you select the wrong Property Type, simply exit the listing process and restart by clicking the "Cancel Input" button.
2. Fill From Your Existing Listing
If you are entering a listing that was previously listed by you or your brokerage, you can save loads of time by starting with the information that previous entered. Make certain you have the previous Listing ID number handy and then, from the REcolorado Matrix Input tab, choose "Add New" under "Listings" and select the appropriate property type. You can then click "Fill from Existing Listing," which can be found in the blue button bar at the top of your screen, enter the Listing ID from the previous listing and the "Fill From" button.
PRO TIP: If you plan to use the same listing photos, when you get to the 'Manage Photos' page, locate the link 'Click here to import photos from another listing'; you'll then be prompted to enter the Listing ID number before choosing 'Import Photos'.
3. Use Fill From Realist
When you select Fill From Realist, the address, legal description, and tax information is automatically added to your new listing, which saves you time and helps to ensure your listing is entered accurately.
PRO TIP: When using "Fill from Realist," keep it simple. To correctly identify the property you want to "fill from," select the county from the County list, then complete the Street Number and Street name fields, and click the "Search" button.
County
Street Number
Street Name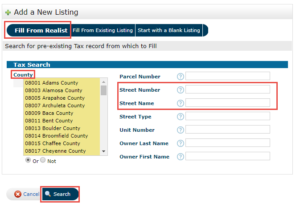 4. Use the Square Footage Companion
The Square Footage Companion gives you definitions of the Square Footage Fields, as well as examples, you can use to determine the square footage for the three required fields – Above Grade Finished Area, Living Area, and Building Area Total.
5. Pretend Every Field is Required
To maximize your listing's "searchability", complete every field during listing input, including those that are not identified with the exclamation point (!).
PRO TIP: To save time, use the 'Validate' button to quickly know which fields are required during listing input. Look for those marked with an exclamation mark in a red circle. When you include more information in your listing, you will increase the likelihood it will appear in a search
6. "Save as Incomplete"
A helpful piece of advice our Customer Care team often offers to callers is to remember the handy dandy "Save as Incomplete" button when entering a new listing. Save as Incomplete allows you to save your work and come back to it later, which is one of the many benefits of REcolorado Matrix!
7. Steer Clear of your Internet Browser "back" arrow
It's best to avoid your internet browser's "go back" arrow. If you click it, you'll likely lose the listing input work you've just done. Instead, navigate forward and backward through listing input by clicking the REcolorado Matrix tabs.
8. Complete Your Listing BEFORE Making it Active or Coming Soon
Before you click the Submit Property button to make your listing Active or Coming Soon, be sure you're ready for brokers and buyers to see it. Here's a check list to help you out:
Use the 'Validate' button to quickly see which fields are required during listing input. Look for those marked with an exclamation mark in a red circle
Add at least one photo (or up to 40) and arrange them in your preferred order
Add a virtual tour if you have one
Add PDF or Word documents, supplements, and attachments. You can add disclosures, additional marketing information, plat maps, or any information that will facilitate the transaction.
One last thought — Typos are too easy to make, especially if you're entering a listing in the evening after a long day. Ask someone else to review the listing to make sure everything looks good before you make it Active or Coming Soon. To print or email an Incomplete listing, use the Print Menu in REcolorado Matrix. You can include photos and the map location as well.
---
For more assistance and information about REcolorado Matrix Listing Input, feel free to reach out to our Customer Care Team at 303.850.9576, option 1 or support@REcolorado.com. We are always happy to help you perfect your listings and make sure they look great.
To learn more, check out these training resources:
Visit the REcolorado Learning Center for additional help guides, how-to documents, and videos
Don't forget REcolorado Customer Care is available 6-days a week at 303.850.9576, option 1 or at support@REcolorado.com to help with any of your listing input needs.