The REcolorado Matrix Client Portal allows you to easily stay on top of your buyer client's home search progress. As your client's personal real estate hub, the Client Portal allows them to search, save, and favorite properties while keeping in close contact with you. And, best of all, your business branding is always prominently displayed! Keep reading to learn about all the great Client Portal features we know you'll love!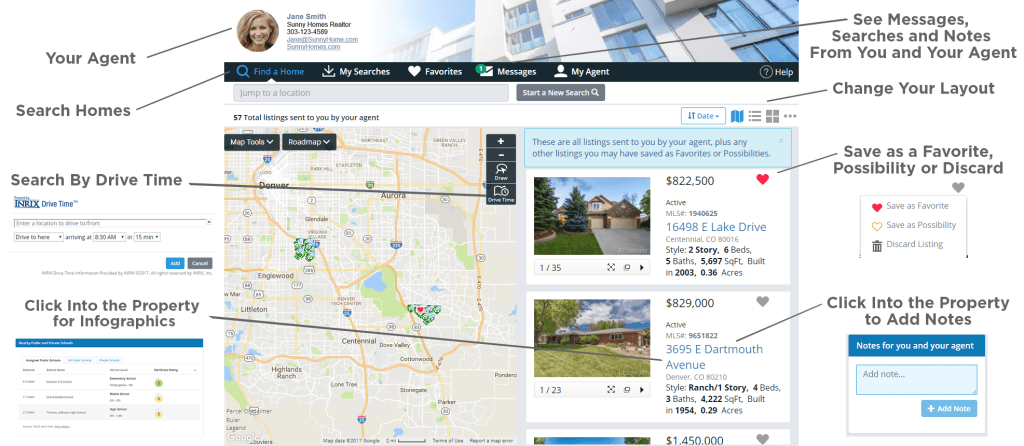 1. Get Insight into Your Client's Needs with Activity Notifications
Set up Activity Notifications—via text or email—so you're alerted when your client is active in their Portal. Pick and choose the alerts you receive, including when your client saves or removes a favorite, adds a search, and more.
2. Easily Categorize Listings as Favorites, Discards, or Possibilities
Your client can click the heart icon ❤️ on any listing and select from the drop-down menu to add a listing as a favorite or possibility or to simply discard it. If they want to leave you a note, they can click on the property's address and start typing in the 'Notes for you and your agent' box.
3. Streamline Communications with the Messages Tab
Your communications with your client, the searches you've set up for them, and your property notes are in the 'Messages' tab, which is in the top navigation menu.
4. Stay in Touch with the Mobile-Friendly
Portal
The Portal is easy to use on a mobile phone and tablet, as well as a computer. This makes it simple for your client to stay in touch with you when they're on the go.
5. Use Map Features
to Determine Commute Time and Learn about the Surrounding Community

The map includes INRIX Drive Time™, so your client has the ability to search for a home based on commute time to work or any other point of interest. Additionally, your client can view Points of Interest on the map that may be close to a property they like, and they can also click Boundaries to see different boundary lines (city, county, etc.)
6. Search for Properties
Your client can set up their own property searches. To do this, they should click on 'My Searches' in the top navigation menu and then click 'Start a New Search.'
7. Find New Coming Soon Listings First
Listings in Coming Soon status are available to brokers and your clients through the REcolorado Matrix Client Portal, giving your clients access to more listings all in one place! Simply check Coming Soon under MLS Status to search for listings. You'll see "Coming Soon" on the property card.
Pro Tip: Learn more ways you can stay connected with your clients by visiting the REcolorado Client Communication Learning Path.