Key Takeaways:
• Listing Metrics is a tool included in your REcolorado subscription that gives you valuable information such as the number of views, shares, saves, and inquiries your listing receives.
• Learn how to access Listing Metrics and all the ways you can use it to serve your clients.
Listing Metrics is an exclusive tool, included with your REcolorado subscription at no extra cost. It gives you valuable information, including a number of views, shares, saves, and inquiries your listing is getting from REcolorado Matrix, Matrix Client Portals, the REcolorado App, and from REcolorado.com. Listing Metrics also shows you views from Homes.com, IDX sites, and syndication sites like Nextdoor, Homes.com, and ColoProperty.com.
The information you get from Listing Metrics can be used in many ways. You can compare your listing to other similar listings and then update your listing to be more competitive. Listing Metrics can also be used to monitor the affect changes to your listing, like price improvements, status changes, or listing detail updates, have on the traffic to your listing. You can also produce a weekly Seller's Report for your clients to keep them in the loop on how effectively you're marketing their home.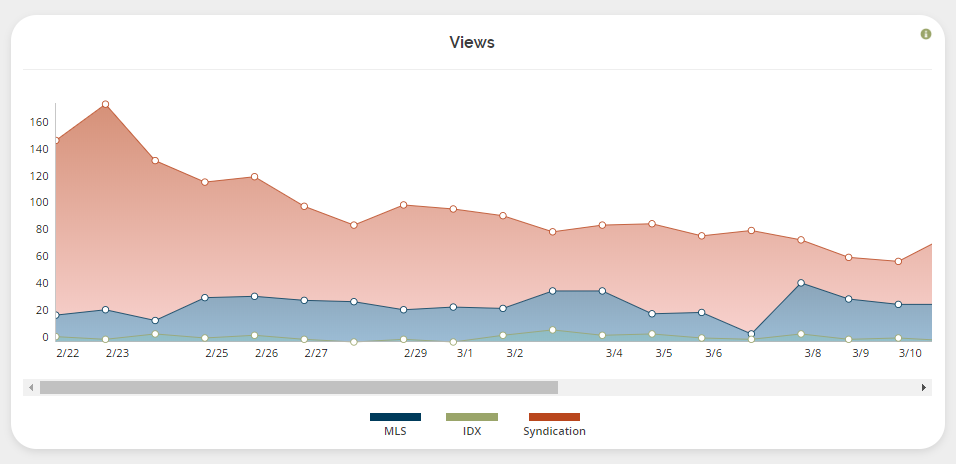 Test Out a Seller's Report: Before you send a Seller's Report to your client, play around with the settings so you know all the available options, and so you can see what the finished product will look like. It's important to be able to explain each section to your client so they understand the information you're giving them. You can customize your Seller's Report by picking and choosing the topics you want to include for your client. If you don't want to include a category, simply uncheck it.
Read the Tooltips: Take advantage of the tooltips in the upper right-hand corner of the graphs, and on the Seller's Report. Click the information icon to view a description of the data displayed on each graph and to help you set up a Seller's Report.
Access Listing Metrics from Your CONNECT Dashboard
You can find Listing Metrics on your CONNECT Dashboard which makes getting started simple and convenient.
Learning Opportunities and Resources
To gain a thorough understanding of Listing Metrics and how you can use it to better serve your clients, take a look at the Listing Metrics: How to Generate a Weekly Seller's Report.  Additionally, you can view the Listing Metrics training webinar on demand. We also review Listing Metrics in our Power Up Your Listings with REcolorado Tools class – register to attend now!
If you have additional questions, our Customer Success Team will gladly answer them! They can be reached at (303) 850-9576, option 1, or support@REcolorado.com