Have you ever thought of your listing data as powerful? When you enter a listing into REcolorado Matrix you're not only entering a home for sale. You're also entering data that is being used to provide information for buyers, power websites, make valuations, help us understand the market, and more. That's pretty amazing! And it is also why the accuracy of the information you enter is so important. Whether you are a broker or a home shopper, accurate MLS data is essential to the home buying and selling process.
Cooperating Brokers
We all want to put our best foot forward and show professionalism to our clients. By entering listings accurately into REcolorado Matrix, cooperating brokers better serve their clients and, in turn, sell your listing faster, which serves your client.
Consumers (aka Buyers and Sellers)
The listing information you enter in REcolorado Matrix is sent in auto emails, as well as to IDX sites, syndication channels, and various real estate apps like the REcolorado App and Homes Pro. All of these are important places buyers look to find homes. Completing every field with accurate information will make it shine and give home shoppers the details and accuracy they need.
Market Statistics
To prove you are the real estate expert your clients can rely on, you need accurate market statistics. Data points like Days in MLS, price, and the number of active, new, and closed listings all help us set buyer and seller expectations. This is why REcolorado requires status changes to be entered within three business days, and why we have tools like Listing Data Checker.
How Can You Help?
Each one of us plays a part in ensuring the listing data we all rely on in the MLS is as accurate as possible. Here are three tools you can use to do your part.
Price Verification
To make it easier to verify the correct price has been entered for new listings, price adjustments, and Closed or Leased prices, a new Price Verification field has been added to REcolorado Matrix. When entering a new listing or making modifications, you will be prompted to enter the price twice to verify you are entering the price you want to display in the MLS and on public facing sites.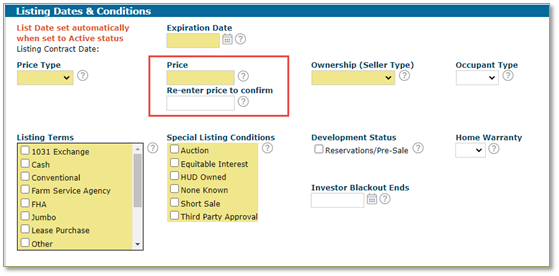 The Validate Button
Using the Validate button is a quick and easy way to check your own listings before submitting them. The Validate button will show you where you might have missed a required field or entered inconsistent information. Don't forget to use your Listing Data Checker Widget on the home page to track notifications and more.

ReportIt Button
When you are viewing a listing you think could have inaccurate information, using the ReportIt button is a quick and easy way to alert us. There is a ReportIt button on each listing in REcolorado Matrix. You can also send an email with the listing number and potential discrepancy to compliance@REcolorado.com. Our goal at REcolorado is accurate data, so we will make the changes we can, and reporting brokers will always remain anonymous.
Remember, our Customer Care team is here to help. Reach us by sending an email to support@REcolorado.com.