You see A LOT of homes and likely come across some ✨interesting✨ layouts. Accurately representing these homes and their square footage in REcolorado MLS is important as you think about marketing your listings and finding buyers, as well as finding comps and facilitating speedy appraisals. To ensure you are entering your listing's square footage quickly and accurately, be sure to keep the REcolorado Square Footage Companion handy. It is a quick reference with a plethora of structures, along with examples of how to calculate square footage.
Pro Tip: To learn tips and tricks to manage your listings with ease, visit the REcolorado Listing Input & Edit Learning Path.
Determine the Number of Above Grade Levels in the Property's Main Structure
The number of levels in a home—whether it's a 1, 2, 3+, Bi-Level, Tri-Level, or Multi/Split—will help you determine how to differentiate between above- and below-grade and calculate square footage.
Pro Tip: To see visual examples of different Structure Types along with example square footage calculations, check out the Square Footage Companion.
Enter the Three Required Square Footage Fields
Above Grade Finished Area: Above grade and partially above grade finished square footage.
Living Area (SqFt Finished): All finished square footage of the property, including the basement if finished.
Building Area Total (SqFt Total): All finished and unfinished square footage of the property, including all levels and the basement. The total area within the structure.
Don't Let Basements Trick You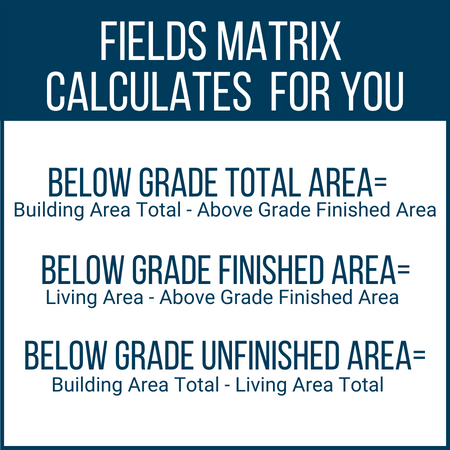 Use the required Basement Yes/No field to indicate if the property has a basement. Below Grade Finished Area, Below Grade Unfinished Area, and Below Grade Total Area are calculated automatically based on your entries for the above square footage field. It's simple math, and it saves you time!
To ensure you attract the right buyers, add more detail. Be sure to indicate basement features: Full, Partial, Standard/Interior Entry, Walk-Out Access, Unfinished, Cellar, Crawl Space, and more.
Pro Tip: Bi-Level homes will never have a basement, but Tri-Level homes could.
Have questions about square footage? Please do not hesitate to contact our Customer Success Team at support@REcolorado.com or 303.850.9576, option 1.