When you win a listing and enter it into the MLS, you become the authority on that property and all its features. As the expert on your listing, your contact information should be clearly visible anywhere your listing displays.
Starting Feb 8, you'll see a new required field called Attribution Contact Type. Your contact information will be automatically pulled from your MLS account and sent, along with your listing, to IDX and VOW data feeds. This requirement will help eliminate any confusion about who prospective buyers should contact and make it easier for them to connect with you because your information will be prominently displayed.
This new field will be located in the Marketing tab under 'IDX Listing Attribution Contact' and will include the following field values:
Office Phone
Office Email
Both Office Email Phone
Agent Phone
Agent Email
Both List Agent Email Phone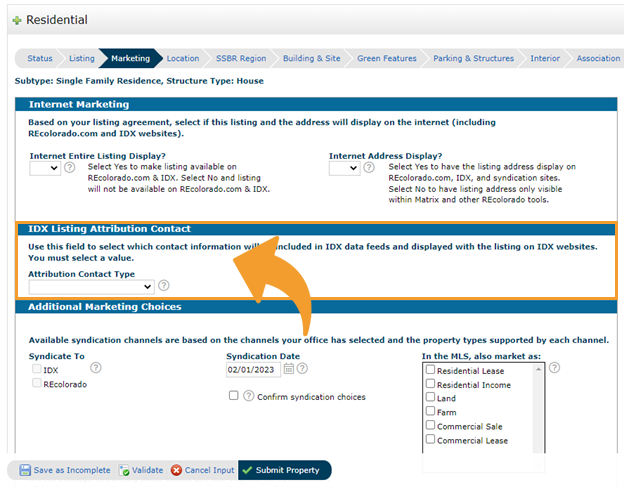 One of the many benefits of having REcolorado as your MLS partner is that we have a standard set of policies that all subscribers agree to follow. These rules are put in place and maintained by our team to keep your data moving smoothly so you can focus on serving your clients. When NAR recently passed this rule, we worked quickly to add it to REcolorado Matrix to give you greater flexibility for office listing attribution on websites through IDX and VOW data feeds.
Pro Tip: From starting a new listing and saving your work to changing listing status and editing on the go, discover tips and tricks to manage your listings in the REcolorado Listing Input and Edit Learning Path. 
Have questions about how this MLS policy works? Give us a call! Our Customer Success Team is available six days per week at 303.850.9576, option 1.