After reaching a peak in June, Denver Metro home prices dipped for the second consecutive month. In August, the median closed price for a home was $582,700, 1% lower than we saw last month and just 1% higher than last August. Although prices are leveling off, buyers continue to be challenged by affordability as interest rates remain stubbornly high. The number of metro area closings was up slightly from July, but is 12% lower than last year at this time. Year-to-year closings were down in all price ranges with the exception of homes priced at $2 million and above. This range saw a 31% increase in closings compared to last August.
Inventory levels remained low in August. There was a minor month-to-month increase in the number of new listings brought to the market; however, compared to last year, there was a 7% decrease.
The number of listings pending sale gives us a glimpse into closing activity over the next month to two months. The number of listings pending sale was up 1% from July to August, but is 14% lower than we saw last year at this time.
Denver Metro Area Housing Market Stats: August 2023
REcolorado videos and infographics depict year-over-year market statistics. To see month-to-month statistics for the Denver Metro area, please read the Full Market Watch Report.
Rental Market Stats
In August, 341 properties were leased using REcolorado MLS, slightly lower than last month but a 17% increase from this time last year. While the median leased price increased by 5% from last year, the median leased price per bedroom and median price per square foot both saw year-over-year decreases. At the close of the month, there were 529 active rental properties on the market, 279 of which were single-family homes.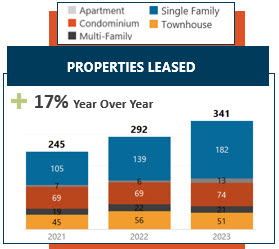 More Colorado Market Stats