Fiscal Year 2021-2022 was a great year for our company and, in many ways, next year is shaping up to be even better. The groundwork has been laid to announce partnerships and launch projects that will deliver on our vision of empowering a trusted, cooperative, and comprehensive real estate marketplace to position our customers for success by providing them with data, technology, and intelligence.
2022-2023 Focus:
Annoucing joint ventures with MLS partners to bring more visibility to agents and their listings.
Securing our customers' listing data to ensure it is used appropriately.
Enhancing the listing management experience for our customers.
Listening to our customers to enhance our partnership with them.
Serving among leaders in the industry.
REcolorado By The Numbers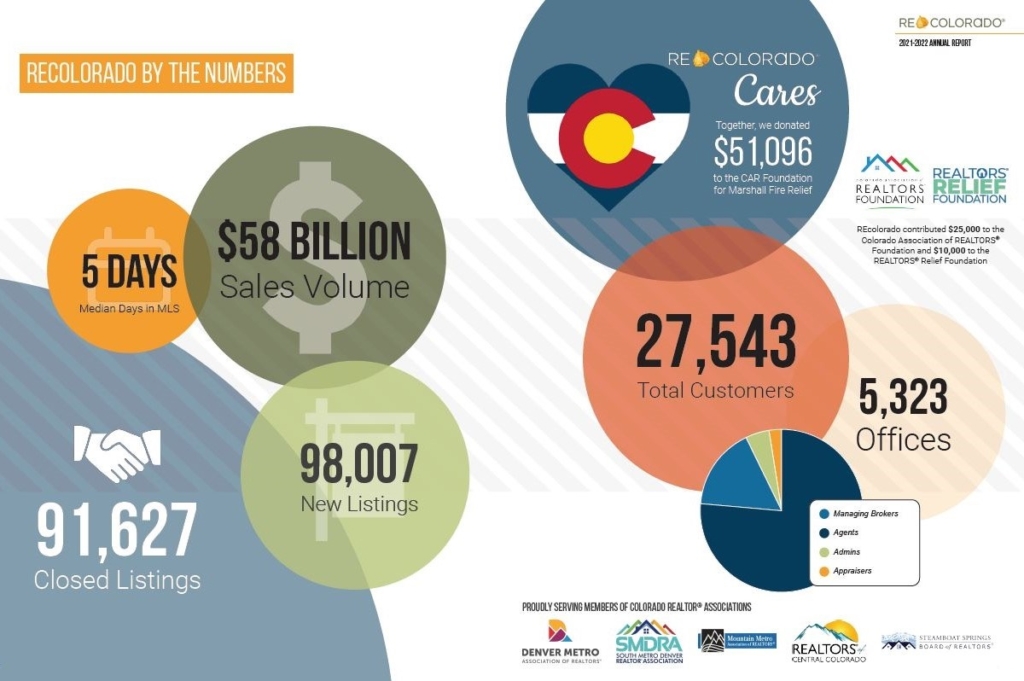 Data Accuracy & Integrity
REcolorado is the repository for real estate data our customers rely on to serve their clients. The more accurate and complete the data, the better the service that can be given to the home buyer, seller, or renter. The REcolorado team, in collaboration with REcolorado's Rules and Regulations Committee and Board of Directors, is continually reviewing MLS policy to ensure it complements the needs of agents as they serve their clients.
Engaging Across the Industry
This year, REcolorado continued to collaborate with MLSs in Colorado. We remain the MLS provider for REALTORS® of Central Colorado and Steamboat Springs Board of REALTORS®, providing MLS services, customer support, education, compliance, data services, and more to their combined 763 members. Through the Your Listing Your Lead program, we displayed listings to home shoppers on REcolorado.com and sent leads to agents across the state at no cost.
At a national level, we joined MLS Grid, a platform created by a network of MLSs that will allow us to streamline our operations by sharing licensing and compliance overhead. We also signed a data share agreement with First Multiple Listing Service (FMLS) to open inventory and create referral opportunities across Colorado, Georgia, and Alabama.
Fiscal Year 2021-2022 was a spectacular year for our company, but we're just getting started! There's so much more to share – check out the full report for more information.