REcolorado provides a diverse suite of training resources to meet your needs, including full length classes and shorter Learn @ Lunch webinars, both live and recorded. Plus, get training on demand with short topic training videos and how to guides.
Introducing REcolorado Learning Paths
REcolorado Learning Paths give you access to REcolorado training resources grouped according to topic. REcolorado subscribers can access registration links for REcolorado classes, On-Demand Videos, recorded classes including Learn @ Lunch webinars, How To Guides, and reference documents, all grouped according to the topic you choose including:
How to Access REcolorado Training Materials
From our Website
Visit REcolorado.com, hover over For Professionals and select Learn and Grow to explore your New REcolorado Learning Paths. Here you'll find training resources grouped according to the topic you choose.
From Your CONNECT Dashboard
Access your CONNECT dashboard from the Professional Login on REcolorado.com. Under the "REcolorado Training & Information" section, find these buttons:
Learning Center – Access recorded classes, recorded webinars, and on-demand videos
Class Schedule – Register for live classes and Learn @ Lunch webinars
Resource Center – Find reference guides and forms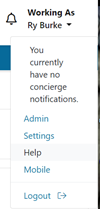 From REcolorado Matrix MLS
Click the expand collapse arrow next to your name. Select "Help" to access the REcolorado Help Index. Although housed in Matrix, the REcolorado Help Index includes On Demand videos and How To Guides for many of your REcolorado tools including Matrix, Realist, InfoSparks and Listing Metrics.