REcolorado Matrix includes hundreds of fields so you can input accurate and complete listings, and so buyers can find a home that meets their needs. But don't overlook the basics – there are a few fields that are vitally important during Residential* listing input.
Property Subtype
Structure Type
Tax Legal Description
Start a New Listing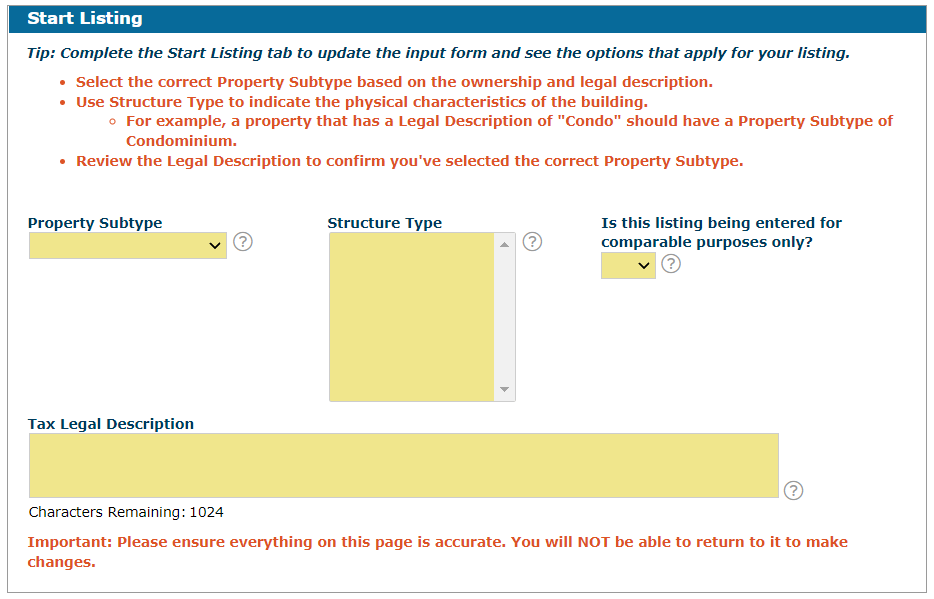 These fields are included on the Start Listing tab – the first ones you'll see when you start a new Residential listing in REcolorado Matrix. They are so important because the rest of your listing input form is built based on your entries in these fields.
Take note – once you complete these fields and move off the Start Listing tab, they are locked and you will no longer be able to edit them.
REcolorado Matrix features Dynamic Listing Input. This functionality was built based on customer requests from brokers who wanted a simpler listing input process and improved data quality. While REcolorado Matrix includes hundreds of fields, not every field is relevant for every type of listing.
Pro Tip: Is the listing being entered for comparable purposes only? Use the Residential Comp Listing form if the property you're entering is a Comparable Listing that was not listed in REcolorado Matrix..
Dynamic Listing Input – Only See Relevant Fields
Dynamic listing input allows the input form to be customized based on the specific type of listing being entered. The answers to the questions on the Start Listing tab determine which tabs and fields are available in the form moving forward.
For example, if you start a listing and select the Single-Family Residence Property Subtype, you will not see fields that only apply to Multi-Family homes.
Pro Tip: Remember, there are separate Property Subtypes for Condo, Townhome, and Multi-Family listings. Attached properties should be entered as one of these subtypes, not as Single Family Residence. For definitions and examples, review the Dictionary of Property Types and Property Subtype and Structure Types.
Data Integrity and Correcting a Listing
Dynamic Listing Input was built to help improve the experience of entering new listings in REcolorado Matrix. This allows only the relevant fields, based on the property type, subtype, and structure type, to be shown, which streamlines listing entry and improves data integrity.
However, you cannot change these fields once the form is built. Once you submit your answers on the Start Listing tab, that tab will disappear and the rest of the form will appear. You can no longer access the Start Listing tab to make changes.
If you make a mistake and need to change one of your entries, please call REcolorado Customer Care for advice on the best way to correct the listing. If the listing is already active, you may need to expire the listing and start over. Contact REcolorado Customer Care at support@REcolorado.com or 303.850.9576, option 1.
More Listing Input Tips
Learn even more listing input tips to help you work smarter and faster! To get started, check out these training resources:
---
*While this post uses Residential listing input as an example, the same is true for all other Property Types. The fields included on the Start Listing Tab will determine how the rest of the input form is built.