How can I enter an off-market listing to include in comps? Doesn't this violate the Clear Cooperation policy? Why should I enter a listing that was closed off the MLS? Can I search for these listings?
Closed Off MLS Listings can cause confusion if you're not familiar with their purpose. Read on as we clarify how Closed Off MLS Listings work in REcolorado Matrix.
Closed Off MLS Listings and Clear Cooperation
All listings should be entered in the MLS based on the Clear Cooperation Policy. However, Closed Off MLS Listings are a way to enter properties that were legitimately sold off-market with no Clear Cooperation Policy violations. For example, a broker may enter a Closed Off MLS Listing when they represented the buyers of a FSBO.
Entering a Closed Off MLS Listing
If you need to enter a comp listing in REcolorado Matrix, you must use the Closed Off MLS form in Listing Input.
Pro Tip: Find listing input forms in the REcolorado Resource Center >>
All Closed Off MLS Listings include a default comment in the Compliance Note field, which indicates the listing was entered for comp purposes only.
When you enter a Closed Off MLS Listing, you only need to enter your ID if you were the listing agent. You may also enter a co-list agent if applicable. If you were NOT the listing agent, leave this field blank and the listing will default to the generic ID "Sold Comp" under listing agent.

Both buyer's agents and listing agents, including co-buy and co-list agents, receive credit for Closed Off MLS listings in productivity reports.
Closed Off MLS Listings and Market Stats
Housing market statistics are based on listing transactions facilitated through the MLS. Listings that were closed without being made available in the MLS then entered for comp purposes are not reflected in REcolorado Market Watch reports, Matrix market statistics, InfoSparks, or FastStats. These listings would dramatically skew market stats reports. For example, a listing entered for comp purposes would show 0 Days in MLS.
Pro Tip: When all listings are available in the MLS, you have access to accurate and complete MLS data that helps you produce better market stats, CMAs, appraisals… in short, it lets you be the market expert!
Including or Excluding Closed Off MLS Listings in Search Results
When searching for Closed properties in REcolorado Matrix, Closed Off MLS Listings will be included in search results by default. You can choose whether or not to include Closed Off MLS Listings in your search results by selecting "Yes" or "No" in the field shown below: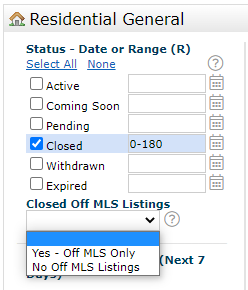 Pro Tip: Listings entered for comp purposes are only returned in searches for Closed listings, as all Closed Off MLS listings are in Closed status.
Remember, the Closed Off MLS Listing form should only be used for properties legitimately sold off-market without violating the Clear Cooperation Policy. The Closed Off MLS Property Type is NOT an alternative to using the MLS. Remember, you are required to submit listings to the MLS within three business days from the effective date in your listing agreement per REcolorado Rules and Regulations.
Closed Off MLS Listings can be confusing, but we're here for you! To learn the ins and outs, register for our class Real Estate Doesn't Work Without Data: Understand REcolorado Closed Off MLS.
If you have questions, you can reach REcolorado Customer Success six days a week at support@REcolorado.com or 303.850.9576, option 1.